............................................ Web Edition March 20 2008 ................................................

Greenpoint/Williamsburg Waterfront Park Wins Major Battle.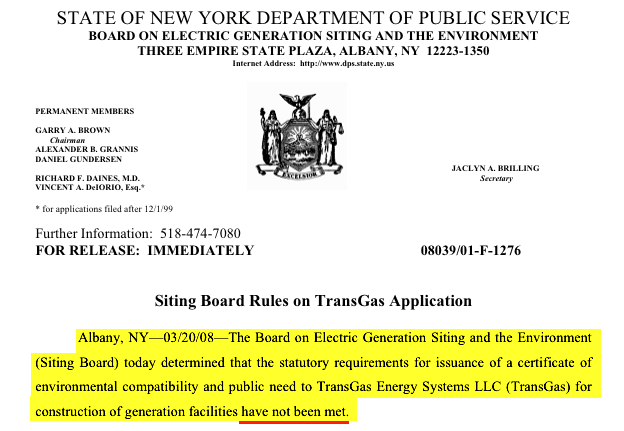 View from the East River of the Greenpoint-Williamsburg waterfront,
illustrating new parks and a continuous waterfront esplanade.


Looking north along West Street. The rezoning opens to
the public the water's edge and spectacular views.

Today, the NYS Siting Board voted unanimously to dismiss Trans Gas' plan to build a power plant on the East River site proposed to become a public waterfront park as part of the Greenpoint/Williamsburg rezoning plan adopted by the city in 2005.

What has been called "Brooklyn's Gold Coast", the Greenpoint/Williamsburg East River waterfront is now set to be transformed from a derelict stretch of NYC to a revitalized and breathtaking recreational area.

For a copy of the full text of the decision go to the following link.
............................................ Web Edition April 25 2007 ................................................

Mayor Bloomberg puts $50 million dollars in budget to be rebuild McCarren Park Pool.

Mayor Bloomberg announces his PlaNYC: A Greener, Greater New York initiative.
On Earth Day, Mayor Bloomberg announced his PlaNYC: A Greener, Greater New York initiative. In his speech at the American Museum of Natural History, Mayor Bloomberg outlined a sweeping policy to improve the quality of life for all New Yorkers and said, " We need to increase open space, expand housing, deal with our congested roadways, create better mass transit options, increase our energy sources and stabilize our water supply or we simply won't be able to continue the high quality of life we now enjoy. If we act now, we'll have a better future, a better quality of life, and more importantly, our children and their children will too." The plan includes expanded street tree plantings, Greenstreet programs and many parks projects around the city.

After a more than twenty year wait and four administrations, Greenpoint's McCarren Park Pool gets a $50 million funding package for the restoration of the Olympic-size pool with a year-round recreation center. The pool reconstruction, along with the East River parks under development between N. 7th and the Greenpoint Terminal Market site, the Greenpoint Avenue WNYC park and pier site, Green Street recreational pier site and an expanded park on Commercial Street are all part of a master plan to create more greenspace for the community after the East River Waterfront rezoning was passed last year.

............................................ Web Edition April 4 2007 ................................................

Starbucks set to open April 9.
| | |
| --- | --- |
| According to the marquee on the yet to open Starbucks on Manhattan Avenue in Greenpoint Brooklyn, opening day will be Monday, April 9th. The company held a hiring event for the store last month at the Cobblehill location, but are still hiring as a help wanted sign is currently in the window. | |

............................................ Web Edition March 19 2007 ................................................

| | |
| --- | --- |
| 126 Franklin Street (at the corner of Milton Street). 2 blocks from the Greenpoint Ave. subway station. | Located on the corner of Franklin and Milton in the historic district of Greenpoint Brooklyn, WORD features a wide variety of new books: literary fiction, non-fiction, gift books, kids' books, toys, puzzles and more. They also carry a large selection of stationery, boxed notecards and journals. WORD will soon be hosting book clubs, author events, and workshops. www.wordbrooklyn.com |
............................................ Web Edition March 8 2007 ................................................

Magic Johnson backs Greenpoint condo project

110 Green Street Condominiums -- located two blocks from the Brooklyn waterfront.
As reported in Crain's New York Business, basketball legend Earvin "Magic" Johnson and his joint-venture partner, Canyon - Johnson Urban Fund, will provide $12.4 million of financing to help build a 130-unit condominium project in the growing Greenpoint section of Brooklyn.

The project marks the venture's third project in the borough and its fifth in New York City.

Green Street Development will use the funding to build a six-story residential building --110 Green Street Condominiums -- located two blocks from the Brooklyn waterfront.

"We are believers in Brooklyn as a place that is economically growing, healthy, entertaining and the place to be," said the retired Los Angeles Lakers star, in a statement.

The Real Estate Board of New York issued a report last week showing a vibrant real estate market in Brooklyn, as median sale prices for coops and condominiums rose about 6% in 2006 to $343,000. Sale prices in the Greenpoint section rose 65% in 2006, the most of any neighborhood in the borough.

During the past four years, Canyon has helped finance several local developments, including a 17-story condominium projects at 369-371 Broadway in Manhattan, and a bookstore, medical office and condominium project in the landmark Williamsburg Savings Bank in downtown Brooklyn.

Canyon also helped fund a 90,000 square foot project on the site of the former Brooklyn Tabernacle in Park Slope in 2003. The project includes 47 residential condominiums and 4,500 square feet of retail space.

The Green Street project will offer one-, two- and three-bedroom units, targeted at single professionals or young families who cannot afford Manhattan real estate prices. Bank of New York has provided a $41 million loan for the project.
............................................ Web Edition March 6 2007 ................................................

Brooklyn Housing Market Continues to Thrive
| | |
| --- | --- |
| According to a study released by the Real Estate Board of New York, median Brooklyn home prices jumped an impressive 16 percent in 2006, to a median of $570,000, driven by a wave of new construction. Greenpoint had the biggest increase in the borough, with prices there rising 65 percent. Brooklyn centric blogs like curbed.com and brownstoner.com have been busy posting the many new developments under construction in this North Brooklyn community. Most recently reported on is a new residential project at the site of the old Eberhard Faber Pencil complex at 122 West Street. | |

............................................ Web Edition February 23 2007 ................................................

Starbuck's finds a
new home in Greenpoint
| | |
| --- | --- |
| As rumors are swirling on the web, Starbucks is in the process of renovating the site of the old Chopin theater (most recently a Burger King) on Manhattan Avenue at Greenpoint Ave. into one of their newest retail locations. The theater marquee will be preserved as one of this location's unique features. The store should be opened for operation sometime in April. If the recent blog postings are any indication, Starbucks should have a long line of patrons waiting at their doors on opening day. Many of Manhattan Avenue's retail businesses have traditionally had store hours that ended at 8:30PM. Many residents are looking forward to Starbucks' extended hours and are hoping that it will begin a new trend in the shopping district. With their new location steps away from the Greenpoint Avenue subway station, Starbucks will undoubtedly become a new morning ritual for many of the residents on their short morning commute into Manhattan. | Site of the old Chopin Theater |
............................................ Web Edition October 19 2006 ................................................

Cancer Cluster in Williamsburg Brooklyn-
NY Post Misleads Where It Is Leaving Residents at Risk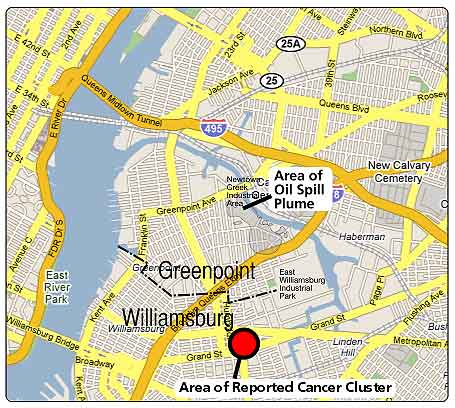 The NY Post, in an article on Oct 15th by Angela Montefinise, and Senator Charles Schumer at a press conference on October 16 incorrectly reported that there was a potential cancer cluster in Greenpoint near an oil spill. However, these three cases of an extremely rare sarcoma cancer are actually on a single block in Williamsburg (where Devoe Street is located and nowhere near the oil spill, not even in the same zip code). One more case is five blocks away and even further away from Greenpoint and the oil spill. In fact, one victim got cancer after residing in the same Williamsburg apartment as an unrelated cancer victim and previous tenant. Sarcomas are a very rare form of cancer, and as reported in the Post article, "You don't see three in one block," Dr. Isaac Eliaz, a California expert on metal detoxification, said. "Someone should be paying attention to this." Dr. Kanti Rai, chief of oncology at the Long Island Jewish Medical Center, agreed that it was "worth an investigation." Unfortunately, the Senator is calling for a health study with regard to the oil spill and is ignoring a potentially very serious heath disaster in the Williamsburg community. Neighborhood Roots has reached out numerous times to Senator Schumer's Washington office's communications director Eric Schultz, and Bret Rumbeck who handles environmental issues for the Senator, with no calls being returned. Curiously, at the same press conference Congressman Anthony Weiner stated that Greenpoint has a 25% higher asthma rate than the rest of the city. The only problem is that the two health studies done by the State and City Departments of Health show the asthma rate in Greenpoint to be between 25% and 50% lower than the rest of the city along with a 10% lower cancer rate. The State DEC is aware of toxic industrial sites in Willliamsburg near Devoe Street that could potentially be the cause of these rare cancers, but no one is calling for a study.
Instead, there seems to be a no holds barred attack on Greenpoint and a blatant disregard for the health concerns of the Willamsburg community. Some question whether the recent political support of massive residential development in Williamsburg and the historic resistance from Brooklyn politicians to residential development along the recently rezoned Greenpoint waterfront has anything to do with these stories.

...................................................... Earlier Stories...............................................................



Greenpoint's Residential Waterfront Rezoning Plan Becomes Law.
City Council Passes Bill With A Vote Of 49 To 1.


copyright 1998 Neighborhood Roots
Skyline Views from Greenpoint's East River Shores
MAYOR MICHAEL R. BLOOMBERG PRAISES PASSAGE OF GREENPOINT-WILLIAMSBURG REZONING

"In my first State of the City address, I pledged that we would reclaim New York City's shoreline and bring new life to our long neglected waterfront. Few other initiatives in our five-borough economic development strategy deliver on that commitment like the dramatic step taken today.

"This comprehensive rezoning for Greenpoint and Williamsburg sets the stage for renewal of a largely abandoned and derelict stretch of the Brooklyn waterfront. It opens two miles of precious waterfront to create 54 acres of open space, including a continuous public esplanade and a 28-acre park, while also preventing inappropriate heavy industrial uses. The plan creates 10,800 new units of much-needed housing, and through a powerful combination of zoning incentives, housing programs, and city-owned land, 3,500 of those units will be affordable housing.

"The rezoning also encourages the growth of the industrial sector through a series of policy initiatives and financial commitments including the designation of an Industrial Business Zone (IBZ), the establishment of a relocation fund for local businesses, and a commitment to work with Councilmembers Reyna and Yassky to identify further land use actions that will enhance the business environment in the area to the east of the Buswick Creek Inlet. And the new Mayor's Office of Industrial and Manufacturing Businesses will be charged with making sure that local businesses are fully aware of available services and resources.

"We are committed to creating economic opportunity for everyone in this great City. The Greenpoint-Williamsburg plan, which will create 11,000 construction jobs and 600 permanent jobs over the next ten years and $1.5 billion in private investment, is the result of our successful collaboration with the City Council, and a plan that will benefit not only these neighborhoods but the City as a whole for generations to come."
---
From the Archives...
Click Here to See Video News Coverage of Original 1998 March & Rally!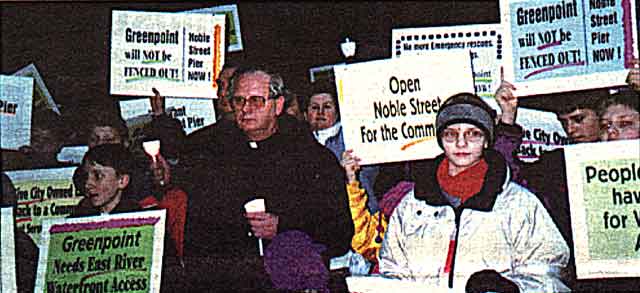 Sunday, December 20, 1998
NY One News
Transcript of broadcast
CANDLELIGHT MARCH
Greenpoint, Brooklyn
Kristin Shaughnessy:
Hundreds of people took to the streets of Brooklyn. They're calling on the city to improve a stretch of waterfront. Residents marked the death of a man who died fishing after a pier collapsed in Greenpoint. Now they want a safer waterfront. Marchers made there way to the Noble Street pier last night to voice their dissatisfaction with the fact that the city owned property is off limits to the public. NY One John Shiumo reports.
John Shiumo:
They marched in the streets of Greenpoint to remember a life lost and to envision a better life for this tight-knit community. At issue is a deteriorating waterfront that is off limits to the public. The consequences for those who choose to venture out on to these piers can be tragic. In October, a fisherman named Jozef Micek drowned after a section of pier he was standing on collapsed into the East River. Residents of Greenpoint say accidents there are becoming all too common and they want the city to do something about it.
John Kupiec, Greenpoint Coalition:
Why was there nothing done after the first seven people went into the East River? Why does Greenpoint get treated differently than other communities? It doesn't make any sense!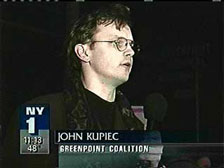 John Shiumo:
Micek's family says he went fishing here almost every night between 10 PM and 2 AM. Their worst fears were confirmed in October when police said they feared the fisherman was missing because the pier was missing. His body washed ashore a few days later.
On the Noble Street pier Sunday night, residents called on the city to develop this stretch of land to make it safer for everyone.
John Kupiec:
The community is literally fenced off from its East River waterfront, stunning that it is, from the Bushwick Creek to the Pulaski Bridge. Not a single area is open for public access.
John Schiumo:
With great views of the Manhattan skyline, the prospects for development are enticing to say the least.
Mary Czaplinski, resident youth:
I hope to see that there will be a park with swings so all kids could come here and play.
John Czaplinski, resident youth:
I think its pitiful because its supposed to be a waterfront, not factories covering everything.
Paulina Zajkowska, resident youth:
I want it to have trees and everything, parks and places where kids could play.
Kristina Bronchard, resident youth:
I want to see a lot of playgrounds to play and a lot of houses and not too many factories.
John Schiumo:
Residents signed petitions and vowed to put the green back in Greenpoint.
In Brooklyn, John Schiumo, New York One.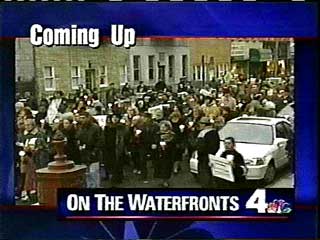 Sunday, December 20, 1998
News Channel 4 / 6 o'clock edition
Transcript of broadcast
CANDLELIGHT MARCH
Greenpoint, Brooklyn

Anchor:
The residents living near a Brooklyn waterfront are fighting for open access. Demonstrators gathered today in Greenpoint and marched to the waterfront appealing to the city to allow the community to use some of its property.
John Kupiec, Greenpoint Coalition:
We've researched. We've looked at New York City Planning Department studies in 1992 and again in 1997 where in fact the city planning commission recommended Greenpoint's waterfront for public waterfront access.
Anchor:
There fight stems from the death of Jozef Micek who died after one of the Greenpoint piers collapsed earlier this year.