Cancer Cluster in Brooklyn-
NY Post and Senator Schumer Mislead Where It Is Leaving Williamsburg Residents at Risk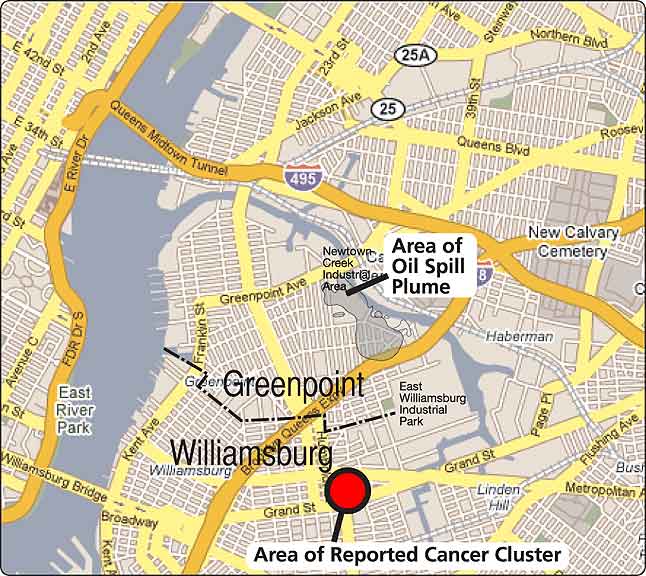 The NY Post, in an article on Oct 15th by Angela Montefinise, and Senator Charles Schumer at a press conference on October 16 incorrectly reported that there was a potential cancer cluster in Greenpoint near an oil spill. However, these three cases of an extremely rare sarcoma cancer are actually on a single block in Williamsburg (where Devoe Street is located and nowhere near the oil spill, not even in the same zip code). One more case is five blocks away and even further away from Greenpoint and the oil spill. In fact, one victim got cancer after residing in the same Williamsburg apartment as an unrelated cancer victim and previous tenant. Sarcomas are a very rare form of cancer, and as reported in the Post article, "You don't see three in one block," Dr. Isaac Eliaz, a California expert on metal detoxification, said. "Someone should be paying attention to this." Dr. Kanti Rai, chief of oncology at the Long Island Jewish Medical Center, agreed that it was "worth an investigation." Unfortunately, the Senator is calling for a health study with regard to the oil spill and is ignoring a potentially very serious heath disaster in the Williamsburg community. Neighborhood Roots has reached out numerous times to Senator Schumer's Washington office's communications director Eric Schultz, and Bret Rumbeck who handles environmental issues for the Senator, with no calls being returned. Curiously, at the same press conference Congressman Anthony Weiner stated that Greenpoint has a 25% higher asthma rate than the rest of the city. The only problem is that the two health studies done by the State and City Departments of Health show the asthma rate in Greenpoint to be between 25% and 50% lower than the rest of the city along with a 10% lower cancer rate. The State DEC is aware of toxic industrial sites in Willliamsburg near Devoe Street that could potentially be the cause of these rare cancers, but no one is calling for a study.
Instead, there seems to be a no holds barred attack on Greenpoint and a blatant disregard for the health concerns of the Willamsburg community. One must question whether the recent political support of massive residential development in Williamsburg and the historic resistance from Brooklyn politicians to residential development along the recently rezoned Greenpoint waterfront has anything to do with this dissemination of lies.