After 12 years of delays the Manhattan Avenue Restoration Project is underway. While Greenpoint residents may boast of their near mountain goat like ability to negotiate rough terrain from years of walking our sidewalks- the difficulty it presents to our senior citizens, children and people with disabilities is no laughing matter- particularly to those who have suffered injury. Unfortunately, information brought to light by the Greenpoint Civic Council indicates the degree to which the sidewalks will be repaired and regraded has been seriously compromised. During early construction work contractors for the project discovered many buildings along the avenue have "sidewalk vaults". Sidewalk vaults are hollowed out areas beneath the sidewalk, extending roughly 5 to 6 feet from the front of the building, running the entire width of the building, and are extensions of the buildings cellar. These vaults were originally built for coal storage or for moving things in and out of the cellar through sidewalk hatches. Unfortunately these old vaults were not built in the manner of more modern ones. The sidewalk is literally the "ceiling" of the Manhattan Avenue vaults. If the workmen remove the sidewalk to repair it, they will literally open a huge hole into the building. More importantly, many of these vaults are not structurally sound. In some cases the sidewalks you walk upon are held up at these locations by pieces of log, splintered two-by-fours or nearly rusted through pipes. These vaults present many technical complications, and there is no money in the current project budget to repair them. As a result at some 78 buildings along the avenue the current plan is to not touch these vaults. This has 3 unfortunate ramifications:

1. Some of these locations are actually structurally deficient and could, at some point collapse.

2. It will not be possible to "smooth out" the ups and downs of the sidewalks, or the curb heights to the streets as well as originally planned.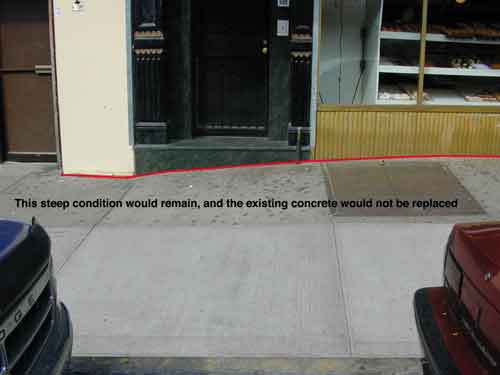 3. While we are hoping to beautify Manhattan Avenue and attract now merchants to our shopping district, the "new' sidewalks will be a hodgepodge of new concrete and old where the sidewalks over the vaults are not touched.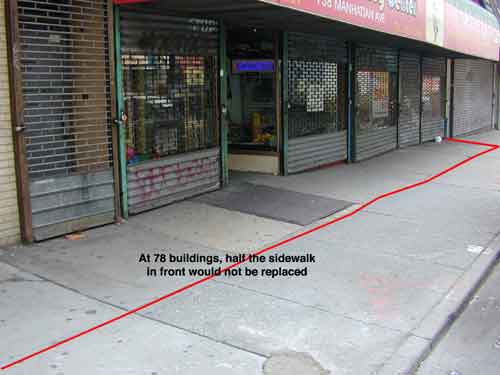 The community asks our elected officials to come to our assistance in securing the needed funds to remedy this situation. While technically the responsibility for these vaults and their repair lies with the individual building owners- it is not possible to coordinate the securing of funds from 78 building owners in the time required for the work to not delay the Manhattan Avenue Reconstruction Project.

This is an emergency situation. The contractors are already changing their drawings to compromise the original plan in order to avoid these vaults. This community has waited too long only to get less than what was planned. Neglecting to reconstruct these vaults is a conscious decision to overlook a potentially hazardous situation. For more information contact Neighborhood Roots at 718-383-0182.