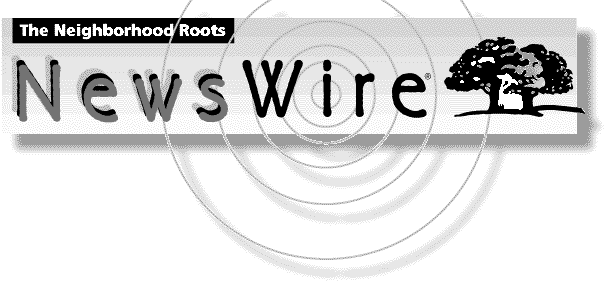 | | | |
| --- | --- | --- |
| Volume 1 | Issue 1 | March 1997 |
---
Protestors' voices were heard
OVER $2.5 MILLION GRANTED FOR GREENPOINT TREES...
The march and rally on February 16 in Greenpoint, Brooklyn united the community and drew the media to a story that needed to be covered. "Cut no trees without guarantees" resonated from the masses of concerned residents through the streets of Greenpoint and all the way to Albany. Govenor Pataki responded with a commitment of $1,000,000 strictly for tree replacement funding in Greenpoint. The City has added an additional $1 million for tree replanting in our neighborhood. The U.S. Forest Service is also providing $500,000 to be used in both Greenpoint and Amityville. Neighborhood Roots has spoken with Paul Berizzi of the Environmental Action Coalition and has confirmed $335,000 to be provided through that organization by the Federal Small Business Administration. The plan is to start replacing trees immediately after removal this spring and continued planting in the fall. Assemblyman Joe Lentol continues his pursuit of funds from the wood products industry. Neighborhood Roots would like to thank everyone who marched, waved banners, signed the petition and made this rally a rousing success. We would also like to thank our march co-sponsor, The Greenpoint Youth Council. There is still much that needs to be done before we can say our job is finished. Although an encouraging stream of funding is now available, it is important to focus on the tree replanting strategies to insure that as Commissioner Stern is quoted in the NY Times, 'We plant all the trees in a way to make Greenpoint greener than ever.'

Neighborhood Roots was one of the local organizations representing our community's concerns at a private meeting held by NYC and the NYS Agriculture and Markets on Feb. 26. and has developed a protocol that would insure responsible tree replanting in all areas impacted by the replanting in all areas impacted by the beetle infestation in Greenpoint/ Williamsburg. The plans regarding planting, tree maintenance and education will continue to be developed over the coming weeks. Community involvement is crucial. We will continue to keep our residents informed with periodic NewsWires as well as town meetings. Additionally, your continued support through the signing of our petitions and involvement in future public events will insure that this sometimes neglected community has a bright future. We're off to a very good start!
............ A. Kupiec