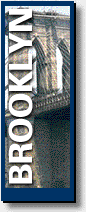 on NY1

Residents Trash Garbage Plan
March 4, 1998
First they came to City Hall to protest the way the city gets rid of its garbage. Then they marched to sanitation department's headquarters in Lower Manhattan. They are residents of Brooklyn and the Bronx who say their waterfront neighborhoods have become transfer stations. Martha Mackey of Redhook says, "I don't want 18-wheel trucks coming through my neighborhood without any kind of controls." Betty Lee of Sunset Park says, "We're concerned about our health, our property, if landfills come to Brooklyn's Sunset Park, our property values will go down and no one will want to move to Brooklyn." The majority of the city's 90 waste transfer stations are in industrial areas like Hunts Point in the Bronx and Redhook in Brooklyn. At a Sanitation Department public hearing, Brooklyn Borough President Howard Golden said he wants each borough to get its fair share of transfer stations. "You can't put a waste transfer station across the street from a residence, you have to take into consideration the odors and other noxious fumes that come out of these waste transfer stations." Since the city is shutting down the world's largest landfill in Fresh Kills, Staten Island, it is in the process of restructuring its solid waste management system for garbage disposal. Once the landfill permanently shuts down by December 31, 2001, the city will spend at least a billion dollars a year on exporting the trash and rely heavily on waste transfer station's like this one located on the Upper West Side.
Mayor Rudy Giuliani says, "Politicians are the ones who are complaining, not the communities. All the boroughs must be self-sufficient. This is one of not in my backyard issues of the worst kind."
Annette Kupiec of Greenpoint says, "No one community can be crying not in my backyard. No one community should become overburdened."
Environmentalists are calling on the Mayor to beef-up recycling efforts. They are not opposed to closing Staten Island's Fresh Kills landfill. But say they do not want the city to allow waste transfer stations to become a burden to all people of the city.
-Adele Sammarco
Copyright 1997, New York 1 News
Watch the Environment Report Tuesdays and Wednesdays