1.
2.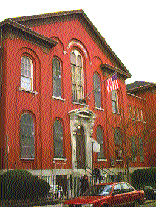 1.

Public School 31 on Meserole Ave.

Principal Patricia Synan

2.

Public School 34 on Norman Ave.

Principal

Joseph Caldone
New York City has 1.1 million students attending public school. Every year, the Board of Education issues the results of citywide reading and math tests and rates the schools on their performance. On Friday, March 6, the Board of Education released its annual Report Card. Greenpoint's Public School 31 ranked number 1 in all of Brooklyn and rated number 5 for all of NYC. Our P.S. 34 ranked number two in all of Brooklyn and rated 14th position in all of NYC. Our students, parents, teachers and principals are to be congratulated for such scholastic achievement and should feel proud to be the "Best in Brooklyn."
These rankings are a confirmation of the continued standard of excellence maintained by our neighborhood schools. Last year, P.S. 31 was also ranked number one in Brooklyn, and number 11 in all of NYC. This year, we are in the Top Ten. Greenpoint is a multicultural community with a burgeoning Polish and Latino immigrant population. This rich and diverse composition, which brings the vitality to NYC, can also be a stumbling block for teachers and children learning in the classroom. However, our neighborhood has shown that the challenge posed to children who speak English in school, but the language of their parents at home, is one that can be met.
Much credit is owed to our principals and teachers for maintaining a high scholastic standard, and to the parents who instill in their children a love of learning, a respect for education, and an exemplary work ethic. These children not only prevail, but excel. And finally, to all our students, "Job well done!, Keep up the good work."