Our present library is a poor replacement

for what was taken from our community.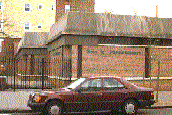 Our Carnegie library before it was demolished in 1970.
The original library stood where the present day library stands. However, the Carnegie library building took up most of the entire site. Its nearly 16,000 square foot interior had a center check-out desk flanked by two large reading rooms. The rooms were paneled in oak. Large fireplaces and tall windows added to the grandeur of the space.

The Bomelstein Clock on Manhattan Ave.
was designated as a Historic Landmark in 1987.
It's one of only eight curbside clocks in NYC.