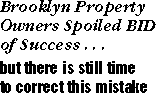 Isn't it sad how a few uniformed people can destroy a unique opportunity by disseminating erroneous information? (See Small Business column, Crain's, April 21.)
The property owners in Greenpoint recently darkened their future and, in effect, lowered their own property values by defeating the proposed business improvement district along Manhattan Avenue. They were misled into seeing a BID as a tax, rather than as an investment in their future.
I own property in three BIDS and am president of one. Over and over, I have seen declining property values reversed, vacant storefronts filled and rental values escalate within a BID.
I feel sorry for Bill Effros and those he convinced to follow him down the path to nowhere. I hope they will see the error of their ways soon, before it's too late.
RICHARD A. PROPPER, President Hub Third Avenue Business Improvement District, The Bronx.
Neighborhood Roots is involved with the tree restoration, and other issues as well such as The Newtown Creek Water Treatment Plant upgrade, WNYC Park, and the McGuinness Blvd. and Manhattan Ave. reconstruction projects. If you would like to volunteer your time to create a brighter future for your community, contact us at nroots@bellatlantic.net.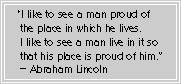 Neighborhood Roots would like to extend our gratitude to all those who have dedicated time, helped organize events, and made donations.